A user friendly decision-making system provided as Software As A Service
It is increasingly important to make quick decisions, quickly identify events, and be able to recognize risk situations.
The MRCS3's Smart Suite provides the solution that allows the user to

turn information into concrete actions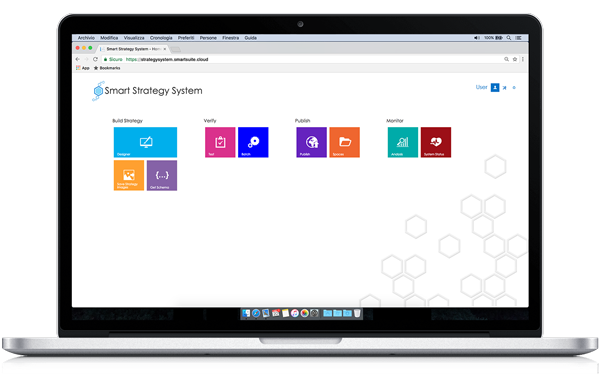 Why Smart Strategy System



Design, Test, Publish
Design your own decision making strategies, thanks to the user friendly interface. Smart Strategy System will support you with a range of tools in the design phase. Test your decision making processes, verify the results and if you are satisfied, distribute your processes to the business.
How to connect with my system
Address, user, password and your system has access to the strategies you designed.
Alternatively, thanks to our skills guaranteed by official certifications, we can create together a front-end with your specific requirements.
A Solid bases
Smart Strategy System, and more generally the entire Smart Suite, is based on Microsoft's cloud Azure infrastructure, a solid, reliable and security and privacy certified platform. Its service-based structure provides excellent reliability and scalability matching performance to customer needs.

Microsoft si impegna a fornire i propri prodotti e servizi in conformità alla
Microsoft is committed to provide its products and services in accordance with the general data protection legislation (GDPR - May 2018)
Loan application process
Automating most of the process and leaving users the task of intervening only where needed results in considerable time and cost benefits. Resources should be concentrated in areas where their contribution leads to real value.
Verify now how many of these areas a decision-making system can bring benefits.
Personal information of each counterparty
Counterparty risk analysis
Collection and digitization of preliminary documentation
Budget data and correlations with the risk to be taken
Preparation of contract documents
Andamental data from internal DB and external data providers
Data on the chosen technical form, destination and durability
Anti-froud controls (level 2)
Evolution of the sectoral context and benchmarks
Authorization to dispense
Details of the guarantees attached to the application
Business plan and variables monitor
Capital cost, market risks, extraordinary costs, unforeseen costs, ...
Data from internal DB and external data providers
Application of Basel measures
Cost of the sales network
Summary data on the quality of the portfolio of each counterparty
Shareholder value expectation
Credit recovery process
The credit recovery process is an area that deserves much attention from the efficiency point of view. The team must be focused where there are solid chances of success and directed towards the most appropriate actions in view of the goals set.
If external collection agencies are used, it is necessary to define which contracts merit external management. It's important to set a proper cost and performance control method.
Data referring to management of non-performing contracts, retail subjects sample (unsecured)
Situation before intervening
Management Type
Undifferentiated
N° of contracts managed

12134

Management time (avg)
4 years
Amount % entrusted to external legal entities
100%
Out-of-court management costs
0 % of the amount
Legal costs

10%

of the amount

Recovery rate %

9,0%



Smart Strategy System is a highly flexible decision-making system.
Are you a business user and want to manage your decision making processes autonomously?
Do you think your business processes can be improved?
Do you want to turn your decisions into action quickly?
Do you need to manage statistical models?

Contact us for more information