MRCS3 fully agrees with Microsoft's mission to provide top-level technology services to experienced, but non-technical users.
THE BUSINESS USER IS THE OWNER OF ITS BUSINESS PROCESS
MRCS3's proprietary solutions take full advantage of the capabilities offered by Microsoft Azure to deliver always on-line, reliable and scalable, matching performance to customer needs.
Microsoft Azure Machine Learning
What is Azure Machine Learning
Azure Machine Learning is a cloud predictive analytics service that makes it possible to quickly create and deploy predictive models as analytics solutions.

Why Azure Machine Learning into Smart Suite
Microsoft Azure Machine Learning makes a strong contribution to the MRCS3 solution as it offers on-demand predictive assessment based on the information submitted.

This module enriches the Smart Suite's platform, allowing you to direct information to the most appropriate decision-making path.
INFORMATION TURNS INTO ACTION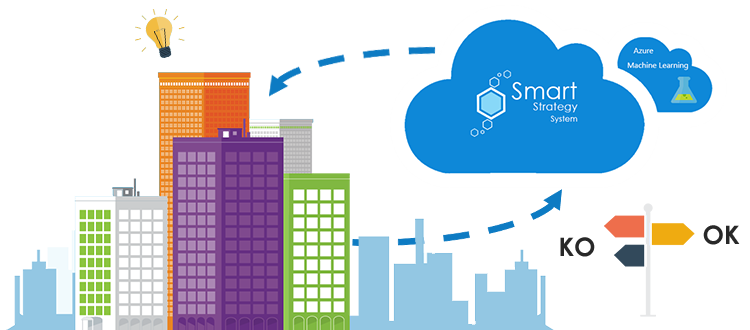 What is Power BI
Power BI is a suite of business analytics tools that provide financial, commercial, and operational insights, to name just a few, throughout your organization.

It allows you to track your business and get responses quickly thanks to the advanced dashboards available on any device.
Why Power BI into MRCS3's Suite
Microsoft Power BI makes a strong contribution to MRCS3's solution as it provides analysis of customer-managed data through the decision engine.

Analyzing data allows you to highlight the critical situations and those where it makes sense to focus your efforts.

The solution can be deployed on web browser, smartphone and tablet app, for controlling your business anytime, anywhere.