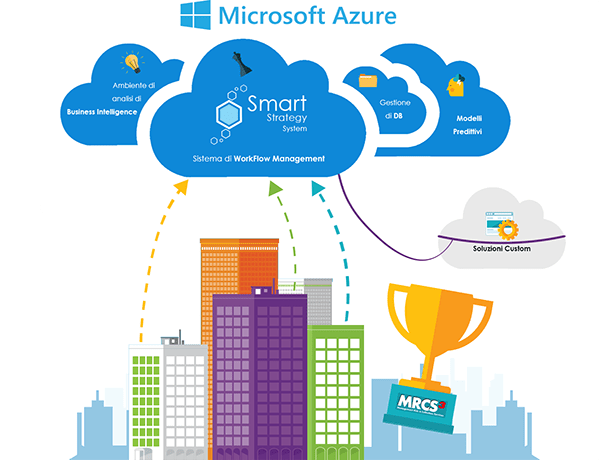 Smart Suite is a web-based platform that handles information management from acquisition, organization, enhancement, along with automated performance management analysis to help you evaluate and define the most appropriate actions to achieve desired results.

Based on Microsoft technology and hosted by the cloud service provider Microsoft Azure, Smart Suite guarantees performance tailored to all businesses.

The heart of the solution is the decision-making system Smart Strategy System designed according to the needs of the user who is the owner of their business process.

The suite is enriched by Smart Gateway for access to external information providers; by Microsoft Azure's services that are fully integrated with our proprietary systems; by Power BI for Business Intelligence analysis; by Cognitive Services for image and scan analysis and by Machine Learning for predictive models designing.

Smart Suite is a platform easy-to-integrate in your existing systems.

Thanks to our implementation capabilities guaranteed by official certifications, we can provide you with a front-end designed specifically to your requirements.



Operating process management belongs to the business user. Easily design your processes to facilitate your employees work. Reduce the cost of risk and operating costs while increasing your know-how. Improve processes and simulate impacts. Introduce predictive systems that help you define the most appropriate actions to achieve desired results.
Know your customers and introduce personalized strategies to reduce operational impacts. Prevent the risk of insolvency and for those positions in arrears minimize the risk of loss. Define recovery actions, goals, and pricing by introducing intelligent systems.
Introduce advanced fraud prevention systems tailored to the historical performance of your portfolio. Connect to external data sources and enrich your information assets. Implement, simulate, and modify your management rules simply and efficiently.
Easily control your business with the use of advanced visual systems, tailored to your needs and available anywhere. Concentrate your efforts on understanding the underlying phenomena. Interact with resources dynamically. Keep control of your sales network. Reduce infrastructure costs taking advantage of the opportunities offered by the cloud and introduce innovative services.
Smart Suite Configurator
Answer a few simple questions. The Smart Suite modules will be configured to meet your needs.